As I had recently relocated from San Francisco to Las Vegas to construct a museum, I was ecstatic to learn that there was an order of the Sisters of Perpetual Indulgence in Sin City. I immediately sought out their Abbess, Sister Loosy Lust Bea Lady, in regards to a potential collaboration and quickly learned that their order had just begun in 2005.
For those unfamiliar with The Sisters, the group's motto is "comfort the disturbed and disturb the comfortable." They are a progressive order of lesbian, gay, bisexual, transgender and gender fluid nuns who believe everyone has the right to express their individual pleasure and beauty. Since their first appearance in San Francisco on Easter Sunday, 1979, the Sisters have been devoted to community service, outreach to the marginalized, and the promotion of human rights, respect for diversity, and spiritual enlightenment. They use humor and irreverent wit to expose the forces of prejudice, apathy, and remorse that bind the human spirit.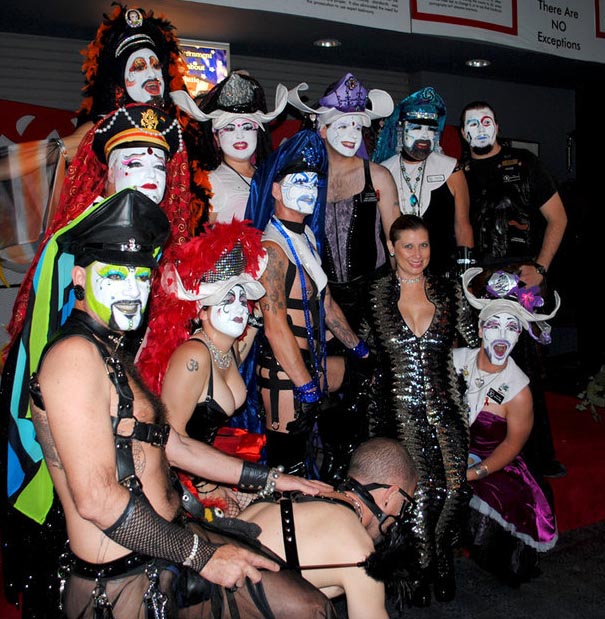 From my perspective, it was a match made in heaven: a museum that provided sex education through art and the Sin Sity Sisters of Perpetual Indulgence who could administer some love. It was an advantageous partnership for both parties. In order for the museum to attract a wide local audience, the Sisters were essential. And for the Sisters, they were able to use the location to organize fundraisers for their Sisters AIDS Assistance Program (SADAP) – a program that provides life-saving drugs to persons with HIV/AIDS. To date, the Sin Sity Sisters have raised over $1 million to aid Southern Nevada residents in need, and they continue to raise funds for LGBTQ+ organizations throughout the year. The most entertaining and ostentatious parties were hosted by Sisters Loosy Lust Bea Lady, Glori-Areola Roll You Over Gluttony, Raegeena Wit Envy and Sioux St. Semen Sloth at the museum. They had my complete trust when it came to execution and merriment.
I will always cherish the early days of community activism at the museum. It was such a delight to collaborate with them again via Sin City Gallery and 12 Inches of Sin. To this day, I hold the Sisters in high regard and look forward to future endeavors.
The Sisters of Perpetual Indulgence have orders around the globe. Support them if you are able! And, if you ever run into a Sister… I strongly advise seeking a hug. It will be a hug full of affection that you will remember forever!
Reference Materials:
Curator of the Erotic, Las Vegas Weekly
Bridging the Gap Between Fine Art and Smut, Las Vegas Weekly
Staying Power, Las Vegas Weekly
Smithsonian of Smut, Las Vegas Sun
EHM Curation, Museum Views
Featured Sisters: Sister Raegeena wit Envy aka Schwestern Vaegeena mit Weiner Envy standing next to a 2005 commissioned painting featuring Sisters from the San Francisco order.