One of the best experiences of my academic journey was the people I met along the way. From lecturing to medical doctors in Shenzhen, China to meeting artisans in Venice, Italy to visiting esteemed collectors in Paris, France, it was the rich cultural diversity of people who were united through a universal desire to express and understand eroticism through art.
When I embarked to curate 24,000 sqft of exhibition space, I dedicated 7,000 sqft for temporary exhibitions that would change every six months. I had the distinct pleasure to work with several individuals and organizations to develop educational exhibitions that shed light on subjects that were typically taboo or misrepresented. To my delight, I met a ray of light in the form of Susan Lopez-Embury. She came to me with an extraordinary idea for an exhibition and event. My immediate response was, "Let's do it!"
I am forever grateful to Susan for penning her experience of our collaboration. And so, without further adieu…
Memories of a Wonderful Museum for Sex History Exploration
"While living in Las Vegas for 8 years, I was an avid sex worker rights activist, and maintained involvement in many groups, projects, and activities as a result of that activism: the Sex Workers Outreach Project, Las Vegas (SWOP-LV), the Desiree Alliance, the sociology and women's studies departments at UNLV, Planned Parenthood, Nevada NOW, and many more. The Erotic Heritage Museum, directed at the time by Dr. Laura Henkel, was a big part of that sex positive community.
The museum was an incredibly extensive collection of memorabilia, artifacts, pieces of art, and information about sex, sexuality, and pleasure. It was exquisitely curated by Dr. Henkel, who had formed the museum as her PhD dissertation.
Dr. Henkel and the museum staff were very supportive of the sex workers rights movement, and welcomed SWOP-LV to have meetings there. We soon began having our annual December 17th memorial (International Day to End Violence Against Sex Workers) at the museum- a day when we memorialize those sex workers who lost their lives. At the time, I was also the director of the Desiree Alliance, a national organization for sex workers rights that held a conference each year. The museum offered their space for our conference gala party. It was the perfect space for that event!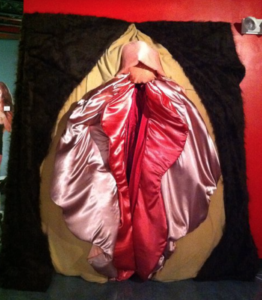 One of the most memorable projects Dr. Henkel asked me to lead at the museum was curating an exhibit on the history of sex work. I had only just had my gorgeous son, so he was barely a toddler, and I remember the project being incredibly tough to commandeer with a very active and playful baby!! He never wanted to be left alone, so I remember having to carry him on me in some way (in my arms, in a baby wrap, in a Baby Bjorn, etc.) while putting the exhibit together.
The entrance to the exhibit was meant to be a giant vulva that I had created, large enough to walk through. It was made from satin, foam rubber, and faux fur. It was beautiful!! It came complete with little bells inside by the g-spot, which was created with appropriately textured fabric. In the end, the vulva was deemed a safety hazard and was placed on a wall as its own stand-alone piece. The rest of the exhibit told the story of sex work through the ages and across the globe, from the beginnings with Ishtar (the first deity known to humans) and Enkido (from the story of Gilgamesh) to modern day forms of sex work.
The museum also hosted several other events for the community, many of which I was honored to participate in. It was the perfect backdrop for the wonderful, vibrant sex positive community in Las Vegas, and will always retain a special place in my heart!"