My journey to learn as much as I could about erotic art, ephemera, film and literature led me to meet Harry Rand, Curator of Division of Political and Military History, National Museum for American History. I was introduced to Rand by The Exodus Trust, a non-profit California Trust with its sole purpose to perform educational, scientific and literary functions relating to sexual, emotional, mental and physical health. The Exodus Trust had one of the best special collections in the world and Rand was a known advocate for the preservation of this unique archive.
At the time, I was living in the Bay Area and flew to Maryland to meet my cousin, an incredible multimedia artist, from Raleigh, North Carolina so we could journey to D.C. together. We planned a great week of exploration by visiting museums and immersing ourselves in as much culture as possible. For me, visiting museums would serve as inspiration to curate a comprehensive exhibitions program for my dissertation. Our itinerary was planned around a 9:00 am meeting with Rand. I assumed the meeting would be nothing more than an hour worth of pleasantries, but, to my surprise, it lasted the full day!
Rand met my cousin and me in the lobby of the museum. As my cousin was leaving to explore the National Mall, we agreed that I would call him when my meeting concluded. Again, I was thinking that this meeting with Rand would only last an hour, max.  Instead of going directly to a meeting room for conversation, Rand took me on a tour of the museum. As we walked the museum, he would point out a work of art and ask, "Is that erotic? If so, why or why not?" This impromptu quiz went on for some time and I honestly enjoyed every minute of it. I had never been put on the spot like that before and it felt great to share my perspective on the subject with someone so esteemed. After the walk about/test of knowledge tour, more conversation ensued in his office. He listened intently to the project that I was designing, developing and curating. I was delighted to learn of his fascination for Starlight films, the 16mm stag films of the 1960s, and his familiarity with The Exodus Trust. To know that someone at The Smithsonian recognized the value of the Trust's special collections was satisfying.
Before our meeting concluded, he handed me his curriculum vitae. I reviewed the several pages of academic achievements, scholarly writings and accomplishments. As I was walking out the door, he asked me, "How did you get here? You don't have the pedigree." My response, "I arrived through the front door." He gave me a sly grin and we said our farewells.
To this day, I am always on the lookout for Starlight films because of Rand. They were difficult to find then and they are even harder to find now. Needless to say, this obscure film series has become a prized possession for die-hard film collectors. There is something so pristine about 1960s sexploitation: a cornucopia of avant-gard innocence and tease. Hoping that Rand will one day publish a book about this genre and, more specifically, the Starlight films. It would be an intellectually stimulating read.
Pertinent Information:
Rumpelstiltskin's Secret: What Women Didn't Tell the Grimms, Book by Rand
Hundertwasser, Book by Rand
Paul Manship, Publisher's Weekly
The Pictures in the Paintings, New York Times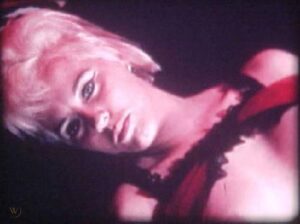 Featured Image Above: Courtesy Grindhouse Cellars | Featured Image Left: Vintage 16mm Peepshow Reel: "Starlight 511 BBP" (ca. 1960's ) (EKTACHROME color stock; silent, color, 400′) The paper that comes with the film indicates "D.S. 16 Dionne Britian" — or, perhaps, 'Dianne Brition' — in any case the film showcases a hard-edged blonde captured in stark lighting that highlights her features and clothing in dramatic relief. Peepshows by this point we less delicate in their attention to the genital zone, but there are no completely unvelied, explicit shots here beyond what you see in these images. This is a splendid example of the early 1960's peepshow arcade booth film. The film is divided into segments corresponding to the successive coins that the lovelorn viewer dropped into the machine to spend time in the virtual presence of this model. This film also comes with a sinple envelope / record card bearing a hand-written name for the model. A fascinating document of the period. Film is complete with a simple title card but no end leader (having been looped). Image quality is superb! Runs fine. I have re-cut the loop into its proper sequence so it begins with the title card. Comes on a 7″ reel. 8martini8-Vintage 8mm & 16mm Stag Films. > Worth Point